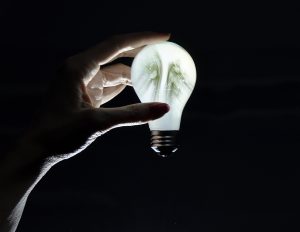 I wonder how many variations there are of the old "How many <BLANKS> does it take to change a lightbulb?" joke? Certainly hundreds! I'm pretty sure we've all heard one of the variations: "How many Moravians does it take to change a light bulb?" ANSWER: "None, Moravians don't like change!"
That's probably true when it comes to some of our traditions that we love — don't mess with the Lovefeast coffee recipe! But of course, all things change. Count Zinzendorf actually said once that "the only thing certain is change."
One of the things I love about Trinity Moravian Church is that they are always ready to try new things. Rather than falling in the trap many churches fall into, which is giving up after a single failure—"Well, we'll never try anything like that again!" — Trinitarians always seem open to trying something new, and if it doesn't work out, getting up and trying something else! And that's really how we succeed. Many great entrepreneurs, from Steve
Jobs to Jack Ma, will tell you that you must fail your way to success.
Sooooo—I bring this up because we have a number of new things happening! First, you may notice a slightly different design for this newsletter — feel free to let us know what you like and what you don't like, and particularly let us know if something is hard to read or confusing.
But there's lots more — some of which has been simmering for months! We're converting to using Google Calendar for all church events and scheduling, which means that the office calendar will be available on you smart phone and your computer at home! Lots more detail has been put in — volunteer rota, themes, what room to meet in — all available with a click. Youll even be able to add a church event to your personal calendar!
This month, we'll also be introducing new ways of electronic giving, including a credit/debit card swipe machine, and "text-to-give." This won't just help with Sunday offering, we hope it will also make it easier to donate when we have luncheons or suppers—or when the Boy Scouts sell valuable collector items in the parking lot!
We'll also be launching a new website design later in the month which will display better on mobile devices, and have more current pictures and information, including many of the articles from this newsletter.
Other new changes are coming too — we hope that all of them will make Trinity a better place and communicate our ministry more effectively. We're assembling an Outreach Committee to plan ways to reach the public more effectively. If you'd like to serve on that committee — or help on specific tasks — please let me know!
Blessings,
Pastor John