About Oscar Hernandez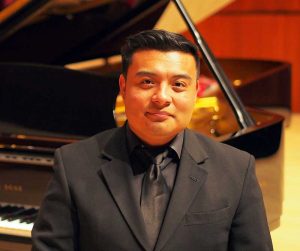 Our Music Director, Oscar Hernandez, recently received his Master of Music in Collaborative Piano Degree from the University of North Carolina School of the Arts where he was under the instruction of Dr. Allison Gagnon. While at UNCSA he worked with students playing for lessons, coachings, and masterclasses. He has collaborated with the UNCSA Cantata Singers, Flute Studio Tour, Undergraduate Opera Scenes, Violin Duos Outreach Concert, student composers, and Wind Ensemble. He has had the privilege of working with guest artists Warren Jones, Stephan Boving, and Stefan Rütter, and has had additional studies with Eric Larsen.
He has also collaborated with local schools, including: Ledford High School, Parkland High School, East Forsyth High School, Glenn High School, Central Davidson High School, and Reynolds High School.
Mr. Hernandez served as Director of Sacred Music for Good Shepherd Catholic Church in King, NC from 2007 to 2016, and as Director of Music for St. Benedict the Moor Catholic Church in Winston Salem, NC from 2012 to 2016. He served as the organist for Trinity Moravian Church in Winston Salem for two years, and was named Music Director in 2019.
Mr. Hernandez has served as Executive Director for Kernersville Music Academy since 2014, where in addition to his administrative duties, he teaches piano.
He also serves as Adjunct Faculty at Bennet College where he teaches piano.
Mr. Hernandez's conducting debut took place in 2010 at Wake Forest University in 2010 where he conducted the North Forsyth High School Women's Choir. He also served as Apprentice Conductor and Chorus Master for Wingate's 2013 – 2014 Opera Season. Mr. Hernandez holds a Bachelor of Arts Degree with an emphasis in Piano from Wingate University. While a student at Wingate, he served as the collaborative pianist for Wingate University Singers, Chamber Choir, and Men's Choir.