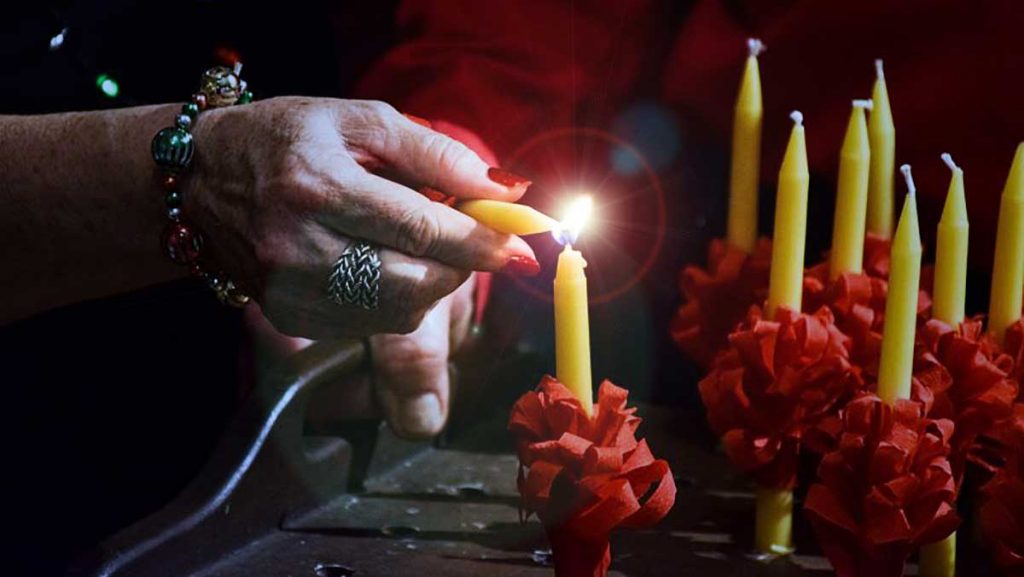 Christmas Candles
One of the most familiar and beloved Moravian traditions is the Christmas Eve Candle Lovefeast, during which lit candles are distributed to the congregation during the antiphonal singing of Morning Star. The service closes with all the congregation lifting the lit candles high during the singing of the final hymn.
The candles are handmade from beeswax and wrapped with a special red ruffle. They are distributed to the congregation by the dieners (a German word simply meaning "server") during the singing of traditional Christmas hymns.
The tradition began in 1747, during a period when Count Zinzendorf, a German noble who was the leader of the 18th century Moravian Church, had been exiled from his home in Saxony. A group of Moravians, called the "pilgrim congregation" had accompanied the Count in his exile, while most of the brothers and sisters continued to live in Herrnhut. Zinzendorf and the pilgrim congregation were living in an abandoned castle in Marienborn, Germany.
That Christmas, the pastor, Johannes de Watteville, planned a special children's sermon. He asked the women of the castle to make special candles of pure beeswax. Each one had a red ribbon tied around the base. He lit the candles as he handed them to the children. The pure beeswax, he explained, reminded them of the purity of Christ's life. The red ribbon reminded them of the blood of Christ shed on the Cross. And the flame, of course, reminded them of Christ the light of the world — and that we must share the light with those around us.
After a few years, this wonderful object lesson became wide spread among Moravian churches, though for many years the service was only for the children. Early in the 20th century, churches began to hand the candles out to adults as well as children.
In most Moravian congregations, candles are distributed while a child leads the congregation in singing the carol Morning Star:
Morning Star, O cheering sight!
Ere thou cam'st how dark earth's night!
Jesus mine,
In me shine;
Fill my heart with light divine.