Matthew Cates, Organist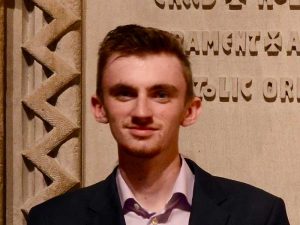 Matthew Cates is an avid pianist, organist, and composer. Having a deep love for French Romantic and Impressionist music, he frequently performs the works of Duruflé, Franck, Litaize, Vierne, and Widor. He studies currently at the University of North Carolina School of the Arts with Dr. Timothy Olsen.
Composing frequently, he has written a number of works for orchestra, chamber ensemble, piano, organ, and voice, among other instruments. His works have been performed in North America and across Europe.
Matthew has studied and performed extensively in Europe as well. He's seen extensive venues across the United States and Europe performing at the Washington National Cathedral, Duke University, Église de La Madeleine, Église Saint-Eustache de Paris, St. Bernard de La Chapelle, La Cathédrale Américaine de Paris and Notre Dame d'Auteuil, among others. He studied at L'Académie Internationale d'Orgue in Paris, France, where his teachers included Frédéric Blanc, Baptiste-Florian Marle-Ouvrard, François Espinasse, François-Henri Houbart, and Andrew Dewar.
In addition to his studies in Europe he has performed the complete works of Maurice Duruflé, and is a Maurice Duruflé scholar. Matthew has had the opportunity to be part of chamber groups and larger orchestra groups playing works such as his own "Chanson du Cœur", Michael Daugherty's "Bells for Stokowski",and Vivaldi's "Gloria", as well as the opportunity to sing works such as Duruflé's and Fauré's Requiem.
He has won two superior prizes for piano performance, in the 2013, and 2014 ACSI piano competitions. His playing has been described in "The American Organist" as "technically and musically masterful. His love for the music is infectious." (TAO July 2015). He placed 1st in the Seventh Annual UNCSA Organ Competition and Festival, and he also placed 1st, and won the prize for the interpretation of Bach in the 2018 ECU Organ Competition.
Organist Matthew Cates Reflects on Music in Worship
Prelude and Fugue in E minor, BWV 548– J.S. Bach