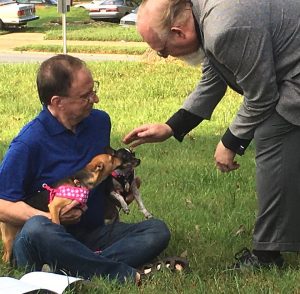 On Sunday, October 9th we will hold our tenth annual neighborhood Blessing of the Animals at 4:00 pm on the front lawn of Trinity Moravian Church.  All pets are welcome, we invite folks from Washington Park, Sunnyside, Waughtown, and other neighborhoods to attend! We expect quite a turnout!  All pet owners are welcome to bring their pets for this service, which will feature special music and the singing of familiar hymns including "All Things Bright and Beautiful."  Pet carriers are encouraged for those with small pets.  Some may wish to bring pictures of pets who cannot come in "person" or which are uncomfortable in the presence of other animals.
Parking is available on street and right across the street in our Sunnyside parking lot.
Safety Considerations for the Pet Blessing Service
It is important for all participants to respect the needs of their pets and other people's pets.  In order to do so, all pet owners are expected to maintain behavioral control of their pet(s) at all times.  Small pets should be carried in a carrier to prevent an accidental escape.  Larger animals must be on a short leash, no longer than four feet in length.  Retractable leashes must not be used as they provide little control of the animal.  It is important to realize that many animals are uncomfortable in new environments, around unknown people and/or animals and may react defensively.  Do not force your pet to participate in the blessing if your pet is uncomfortable. Pastor Jackman is used to dealing with animals and generally is able to make them comfortable.  Please allow personal space between your pet and other pets.   If you have an aggressive, protective or defensive pet that you would like to have blessed at the service, you are invited to bring a photo of your pet to the service and present the photo to Pastor John for the blessing.   If your pet is sick, disabled, or elderly and you would like to have your pet blessed without the stress of bringing him/her to the service, you are also invited to bring a photo of your pet for a personal blessing.