Welcome to our 2020 Christmas Eve Virtual Candle Lovefeast!
Download Printable PDF of Service – including all words for hymns 
What a year 2020 has been!  We determined months ago that packing a lot of people into the sanctuary, singing lustily, and passing cups and buns down each pew was perhaps the most dangerous thing we could do in this season of COVID.  So how do we continue our beloved tradition?
We have found this year that even when we can't be together in the same room, we can have a sense of "togetherness" when we sing the same hymns, pray the same prayers, and meditate on the same Scriptures.  So we decided to get candles, lovefeast buns, and so on to every household that wanted them, and come up with a really excellent webcast that everyone could watch at home Christmas Eve with their family.  Jesus said, "Where two or three are gathered in my name, I am there with them."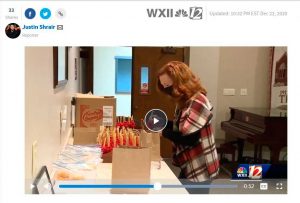 So — many of our members have picked up candles, lovefeast buns, and lovefeast odes.  Others are making their own buns and lovefeast coffee (see recipes below!) at home, and are dressing ordinary household candles with a red ribbon. After all, it's not the exact elements that are important, it is the celebration of fellowship!
WXII Features Trinity Virtual Lovefeast
Learn more about the Lovefeast Tradition
Learn more about the Beeswax Candles
---
RECIPES

Making Your Own Trinity Lovefeast Coffee
The Trinity Moravian Church Coffee makers have been using regular Maxwell House "Master Blend" coffee for many years.  You can use whatever brand of coffee you like, but Starbucks will taste different.  Probably most "standard" supermarket coffees (Folgers, 8 O'Clock, etc) will taste similar to the Maxwell House.  We use half-and-half for the creamer.
Most home coffee makers will make a pot with eight 8-oz cups.  For each eight-cup pot, add 1/3 cup of sugar and 2/3 cup of half-and-half.
If making by the cup, that's 2 tsp sugar and 4 tsp half-and-half per cup.
---
Recipe for AUTHENTIC MORAVIAN LOVE FEAST BUNS  
From Mrs. Lahoma Gray
1 c. Melted Margarine
1-1/2 c. Warm Water
1-1/2 c. Honey or Sugar
4 T. Yeast – dissolved in ½ cup warm water
4 Eggs – beaten
4 T. Frozen Orange Concentrate
2 c. Flour
2 tsp. Salt
2 c. Hot Mashed Potatoes (potato flakes can be used)
2 T. Mace
Cream together the margarine and honey or sugar. Add eggs and frozen orange concentrate. Gradually add mashed potatoes, warm water and yeast. Mix together the flour salt and mace. Make a well in flour mixture and pour in liquid ingredients. Gradually add more flour (approximately 5 more cups) to make a dough that can be turned out and kneaded. Knead until spongy and smooth – approximately l0 minutes.
Let rise until double in bulk. Make out into rolls and let rise again.
Bake 350 for about 20 minutes. Brush with melted butter.